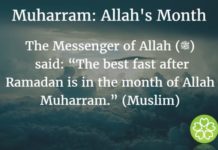 From among the months of the Islaamic year, the "Ashurul Hurum" (Sacred Months) enjoy a greater significance. Hafiz Ibn Katheer (Radhiallahu-anhu) has quoted the...
Question: A few years ago I lent someone $200,000. The arrangement was that he would give me a parcel of land instead of repaying the...
Question: I will like to know if the Dexshell ultralite socks are proper for masah? I am going for hajj and will like to use...
Question: 1. How does one reconcile the injunction in the Qur'an which tells the believing men & women to lower their gaze with the...
Question: I sold a car to a customer stating on the contract sold as is. If the customer discovers a fault after 1 week is...
Question: My question is how do I pray the Salah that I have been missing? I know its a sin if one don't pray his...
Question: I bought my wife a platinum diamond ring a while ago, and would like clarification if platinum wedding ring is permissible for women to...
Question:Is investing and trading in Bitcoin and similar crypto currencies permissible according to the laws of Sahari'ah?
Question I would like to inquire about the permissibility of doing screen printing on cakes with human or animal...
Question: Are crabs (sea, land, river, blue, mangrove, etc.) permissible? Answer: In the...
Question Which Nisaab value should be used in Trinidad and Tobago when calculating Zakah, the value of the Silver...
Question: Assalamualikum, I would like to know if bleaching or trimming of the eyebrows is allowed if ones eyebrows...
Question: As-salaamu 'alaykumI am buying and holding shares of an ETF (Exchange-Traded Fund). My intention is to continue to...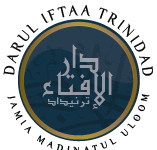 Sadaqatul - Fitr is a compulsory charity on adult males and females who have in their net - possession assets to the value of...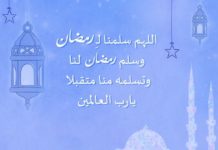 Jaamia Madinatul Uloom & Masjidul Huda (Marabella, Trinidad) My Ramadhan guide (1442/2021) Virtues of Ramadhan Ramadan is the month in which the Qur'an was revealed as Guidance...
Shabe Bara'at 15 TH. SHA'BAAN Night= Sunday 28th. March, 2021 night.                           Day= Monday 29th. March, 2021. SUNNAH FASTS: Mondays & Thursdays and 13th. /14th. / 15th each Islamic...