Question: If a couple wishes not to have a child, is it permissible to use contraceptives such as condoms...
Question: Assalamualaikum Mufti Saab,I hope you're well InshaAllah.Unfortunately I am in the process of separating from my wife and...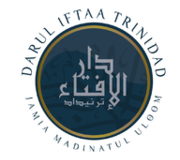 The Islamic perspective of Coronavirus Covid—19 All praise is for Allah Taála at all times and may peace and blessings be...