Darul Iftaa-Jaamia Madinatul Uloom, Trinidad
Stadium Link Road, Gopaul Lands, Marabella. Trinidad, W.I.
Tel-  +1(868)658-7715
Email- jmudarulifta@gmail.com
Website- www.fatwa-tt.com
Madrassa- www.jaamia.net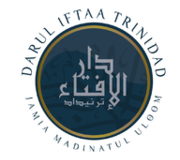 Question: As-salaamu 'alaykum. Whats the ruling on sex dolls and does it fall under the ruling of zina? Answer: In the Name of Allah, the Most Gracious, the Most...